On-Line Deslagging
Drop "Clinkers" Without Dropping Your Load.
Plant Maintenance Services offers a variety of on-line Hydro Blasting services including de-slagging screen tubes, vertical pendants, bullnose and lower slope, slag-necks, economizer screens, hoppers, reflective ash removal from fireboxes and our on-line back pass wash. There are many benefits to conducting this work on-line and the greatest is avoiding lost megawatt production. Hydro Blasting with our On-Line de-slagging process can be done on an as needed basis versus waiting for scheduled seasonal outage.
We Know Boilers – Inside and Out.
A major advantage of our on-line de-slagging is the enhanced effectiveness of our Hydro Blasting methods as a result of higher boiler temperatures. Larger slag deposits or "clinkers" are removed by a combination of water force and the expansion of water into steam which acts like an explosion within the penetration fly ash deposits.
This method, while greatly effective with carbon steel tubes, should not be used on stainless steel units as there is a risk of heat stress fracturing. Many satisfied PM Services customers offer testimonials, not only on the increased efficiencies they experience after employing this process, but also to the fact that over the years of utilizing our on-line de-slagging services, the strength and integrity of their carbon steel tubes have not been compromised in the least.
How Do We Do It?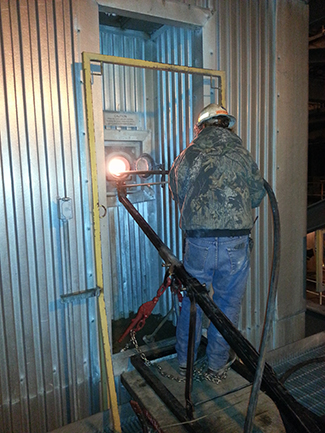 Inspection ports and man-way doors allow us access into the units with our high-volume Hydro Blasting tools. Powered by 500 to 600 horse power Hydro Blasting pumps moving approximately 110 GPM at 10,000 PSI, we use proprietary tools designed specifically for the task at hand. Straight Hydro Blasting tips and 'zero-thrust' nozzles remove ash from pendants and screen tubes while our "2 dimension rotary sled" renders unmatched results in the back pass. Our automated on-line de-slagging Hydro Blasting equipment and skilled technicians not only provide the most effective method for boiler cleaning available, but there is no safer or faster approach to conducting this type of work. In fact, many of our customers employ our on-line de-slagging Hydro Blasting process as a "pre-shutdown" preparation to explosives cleaning. Det-Cording time is cut in half, thus greatly reducing the overall duration of the outage.
"Shooting our units on-line has become a staple part of our operating procedure and our maintenance program, thanks to PM Services, is a model for other Ameren facilities."
~ Albert Becker, Plant Engineer, Ameren C.I.P.S. Coffeen, Illinois
While anyone can brag about equipment and tools, our greatest asset is our people. Our crews are trained in the most effective Industrial Cleaning techniques. From Ethanol Process Plants, Electric Power Plants, Natural Gas Processing Plants, and Oil Refineries, to other industries like petrochemical and food or pharmaceutical manufacturers, our Hydro Blasting services are an integral part of our customers' maintenance needs.